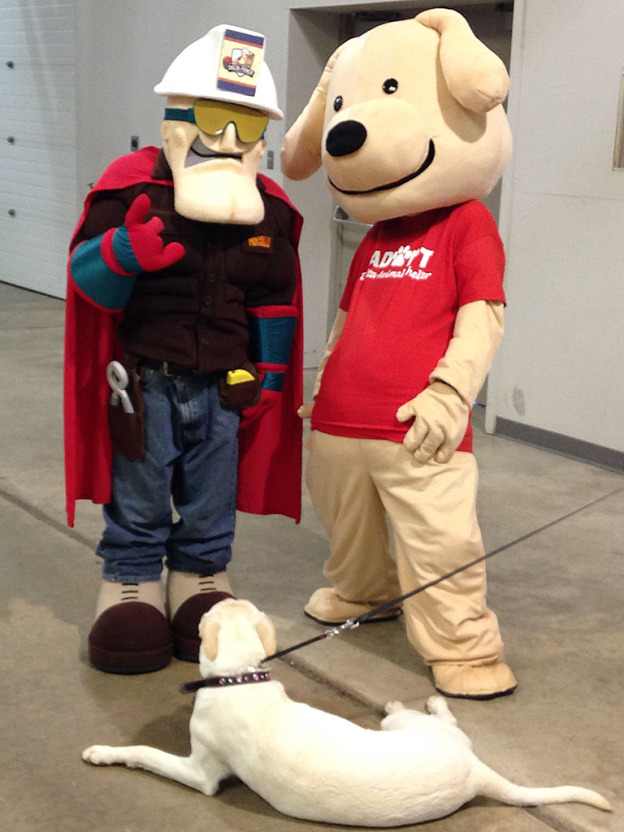 Delta Fence & Construction will be at the Kiwanis Home & Garden Show and Pancake Days this weekend at the U.P. State Fairgrounds in Escanaba. Stop by and talk with us about your summer plans. I know that may be a bit difficult considering all the snow we have today. But Spring will come, eventually, so it's good to get a head start on your fencing projects.
Fenceman will make an appearance at the show on Saturday from 12 to 2 p.m. and Sunday from 10 a.m. to 1 p.m. Bring the kids by and have their pictures taken with Fenceman. (Adults can too.) We are going to have a good time.

Many people bring the dimensions of their yard. If you do, we can give you a quote right there at the show. Or set an appointment and we will come to your home to quote your project. It's important to get on the schedule early because now is time that people start making their plans. Our crews are going to be busy if or when the snow finally decides to melt. Look for the blue flag and stop by to say hi.
And don't forget to have some pancakes. It's a long tradition and a good cause. The Escanaba Noon Kiwanis does a good job supporting our community. We are proud to be a part of the program. See you at the Home & Garden and Pancake Days!
Subscribe to our YouTube channel, our Facebook page, and also our blog page on our website to stay up to date on what's happening at Delta Fence & Construction! We will be posting useful content just like this periodically to help you become more educated fence owners. Stay tuned for more!
Like us on Facebook: https://www.facebook.com/DeltaFence/
Subscribe to our blog page: Blog
Subscribe to our YouTube channel: https://www.youtube.com/user/deltafenceman 
For more information on keeping your fences looking like new or any other questions you may have, reach out to us by calling (906) 786-1076.