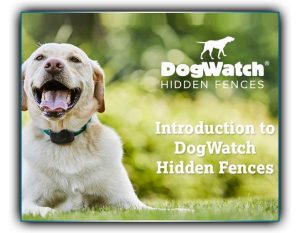 Dogwatch hidden fence systems are the most advanced and safest available. DogWatch has been keeping pets happy and safe since 1990 with innovative solutions that protect your pets while allowing them the freedom to play outdoors.
Your pet can't jump over, dig under or chew through a DogWatch hidden fence. In addition to being less expensive and safer than traditional dog fences, a hidden fence can be easily customized to establish a safe play area for your pet while protecting your landscaping, children's play areas or anything else you want to designate as 'off-limits'.
DogWatch hidden fences are the most reliable pet containment systems in the business, and DogWatch offers safety and convenience features not found in any other hidden or "invisible" dog fence. Give us a call, we'd love to show you how it works.
Top 5 Reasons to Choose DogWatch
---
1. Experience Dogwatch hidden fence
Surrounding dogs with freedom since 1990. Their pet containment products have been tested on all types of dogs and dog personalities and Delta Fence & Construction is an experienced professional who is committed to providing you with a quality product and quality service.
---
2. Technology
DogWatch Hidden Fence technology stands out from all the other dog fence brands. Most notably, DogWatch is the ONLY hidden fence company that uses an FM frequency; all other hidden dog fences operate on an AM signal. Their patented digital SafeLink® FM signal helps to protect your pet from unintentional corrections that can happen on the AM frequency (such as from garage door openers, televisions, baby monitors, etc.). FM is a safer, more secure signal, and you will only find it at DogWatch.
---
3. Safety
DogWatch includes other significant safety features not found in other brands. For example, features such as AutoMemory® and FastReact® are exclusive DogWatch safety features. The DogWatch system also uses a 'Distance-based' correction trigger rather than a 'Time-based' correction trigger. This provides a more reliable and consistent boundary for training your pet – no surprises, no confusion.
---
4. Customer Service
We are committed to providing customer service that matches the quality of our products. Referrals from happy customers are a big part of our business, so customer service and on-going support is one of our top priorities.
---
5. Cost
Bottom line, a hidden fence is more versatile and much less expensive than traditional fencing. The price for a hidden fence varies depending on the size of your yard and other factors, but – all other things being equal – DogWatch is a better value than other dealer-installed underground pet fences. With a two-year battery life, fewer service calls, full lightning protection, and a Lifetime Warranty included, the comparison always adds up in favor of DogWatch.
Check out this guide put together by DogWatch on how to train your pet for an underground wireless fence.