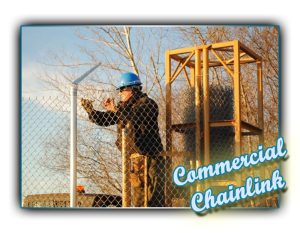 Our commercial chain link fence solutions are built tough to give you the peace of mind knowing that your business is protected. With different heights, gauges, and options like barbed wire, there are many ways to safeguard your assets from would-be threats. Our aluminized chain link fence will hold up to the elements better than galvanized alternatives.
For commercial work, we can install 8-, 10- and 12-foot chain link including barbed wire. Delta Fence & Construction is a national leader in commercial chain link installation with the development of special fencing equipment.
Check out the test results comparing aluminized and galvanized by clicking learn more!
We've got a number of sensitive pieces of equipment…
The thing that required compliance was the bulk CO2 system, mainly the bulk CO2 tank. All of those things are ones we didn't want tampering with by unfamiliar denizens so it behooved us to put up a fence around it for additional security reasons.
Commercial Chain Link Fence FAQS
How do you install a commercial chain link fence?

A commercial chain link is an ideal fence option for businesses that want to ensure their assets' safety. This fence style comes in different gauges and heights, allowing commercial property owners to choose the best type. When installing a commercial chain link fence, letting the professional fencing contractor do the work is highly recommended. This is to ensure that the fence is well-aligned, keeping the business safe. For commercial chain link installation, contact us today!

How much does a commercial chain link cost to install?

Chain link fencing's cost usually starts at $5 to $20 per foot but only for materials. When it comes to installation, it could start at $10 to $20 per linear foot. If you are considering commercial chain link installation, you might spend more than $2000 on average.

Which is thicker, 9 gauge or 11 gauge?

Gauge is the measurement that is used to measure the thickness of the steel. The higher the number, the thinner the steel would be. Therefore, 9 gauge is thicker than 11 gauge. Therefore, 9 gauge is better since it comprises three galvanized wires for extended life. It is also highly recommended when making a barrier fence.