The importance of quality fence equipment.
Can make the difference on big and little jobs. Today we are working in the backyard of a homeowner putting in a Chain Link Fence for a dog. We have a situation where we have some trees, some concrete, and we have to get the posts up tight to it. We are using a gas pounder that is new on the market. (Side Note – Blog about Pets Safety HERE)

It is the Rhino GPD-40 Fence Pro. The gas-powered post driver offers versatility in tight areas such as flat cement areas and tree lines. The gas pounder allows us to drive the posts in that need to be driven in and get the job done quicker. HERE is the RHINO Product Flyer.
We still like to concrete our gate posts. We deploy a rapid rock in the mix to cure quickly. This allows us to finish the job in one day or coming back a second day to complete any unfinished tasks. Proper fencing tools affords us better schedule flexibility. With the number of projects that we do, we have to get done one, two or three projects in a day, having the right fencing equipment helps to get the job done quick.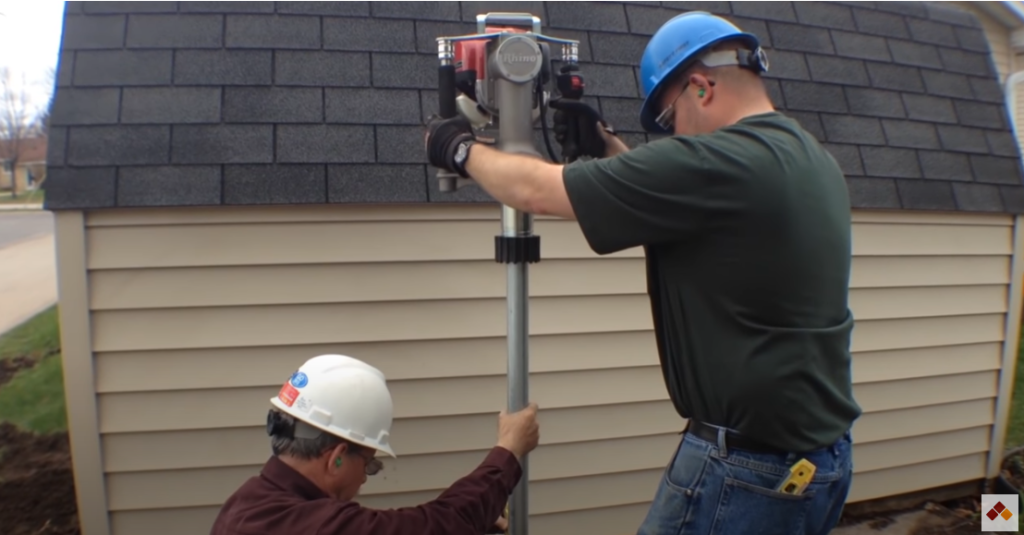 Get the Job done Faster!
With the right hardware we pound the posts quickly. Next, we are going to frame the fence fabric and stretch it. This job will be done very quickly. It's very important to have the diverse fence equipment like the gas-powered post driver to get the job done right for the homeowners.
Subscribe to our YouTube Channel, our Facebook Page, and also our Blog Page on our website to stay up to date on what's happening at Delta Fence & Construction! We will be posting useful content just like this periodically to help you become more educated fence owners. Stay tuned for more!
Stop by our Outdoor Showroom to check out all that we have to offer or watch the Video Here. If you are interested in learning more about types and styles of fences or have any other questions, give us a call at (906) 786-1076 and one of our friendly team members will be happy to assist you.
Delta Fence & Construction offers affordable fencing options, complete design, and customization. Built by Upper Michigan experience installers with the goal to meet and exceed the needs for a secure, safe and happy pet/family environment.
If you live, work or play in Upper Michigan and are looking to learn more about residential fencing. Delta Fence & Construction can help! Call us at (906) 786-1046 or visit www.deltafenceman.com to schedule an appointment today.

Delta Fence & Construction is a licensed, bonded and insured fencing contractor in the State of Michigan.