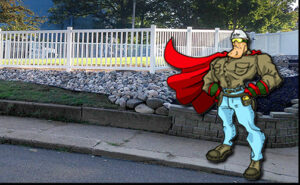 Adding a safe, secure and elegant fence boosts the curb appeal for your home and property while enriching the homeowners experience with a number of positive benefits. Let the knowledgeable staff at Delta Fence and Construction help guide you through the potentials, products and professional tips that bring value to your home and foster peace of mind.
If you are looking to increase curbside appeal while enhancing the outside of your home. You could be in for a daunting Spring task in Upper Michigan. There are a handful of do-it-yourself common chores like washing windows, repainting doors, adding lighting, refreshing the landscape and of course power washing everything. These are all great ideas and should be done routinely. Another local option, that boosts homeowner value and increases curb appeal is adding a safe, secure and elegant fence.
Done right by Fenceman, a quality Vinyl, Wood, Molded, Chain Link or Ornamental fence combines style with Upper Michigan attitude. Providing security for family, home, property and pets. From the sidewalk, the home appeal swells with a quality custom UP Built fence.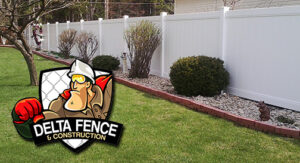 "Fences should be horse high, hog tight and bull strong." ~ Fenceman
Often overlooked, one of the easiest ways for homeowners to improve their home curb appeal from the street, is by visiting the Delta Fence Showroom. Learn more about current products, industry best practices, environmentally friendly technologies, durability, maintenance, versatility, security and property protection. With over 40+ years of experience in Upper Michigan, Delta Fence's staff can advise on choices, help detail pros/cons for decisions and provide real-world examples. It's kind of our superpower.
There are a plethora of fencing choices available. From aesthetic, safety, security and options that complement home colors, landscape designs, U.P. Weather considerations, common easy to overlook pitfalls, and even FAQs for most products. The staff at Delta Fence & Construction is here to answer questions, provide guidance to homeowners and support positive long-term results. A new quality fence can significantly increase a property's curb appeal while significantly increasing the homeowner's peace of mind. Learn more today at Delta Fence & Construction.
If you live, work or play in Upper Michigan and are looking to learn more about residential fencing.  Delta Fence & Construction can help! Call us at (906) 786-1076 or visit www.deltafenceman.com to schedule an appointment today.

Delta Fence & Construction is a licensed, bonded and insured fencing contractor in the State of Michigan.