Advantages of wood fences.
Continuing to circle the wagons on the myriad fence styles and types, let's take a look at the advantages of wood fences. Common in our Midwest region, wood fences encompass anything from a crude animal pen to a beautiful six-foot privacy fence, to custom Shadow Box, picket, board on board or even handcrafted woodwork that matches and reflects the home it encompasses. One of the highlights from living in the Upper Peninsula is that we are not only mostly surrounded by water, but we are almost completely covered in trees.
This natural beauty lends itself well to wood fences.
As we turn the corner on the beautiful Upper Michigan Fall season, we begin to prepare for the bitter cold, gusting winds and ice-covered roads that soon blanket the natural wonders of our northern peninsula. As we anticipate the gloomy whites, greys, greens and other Christmas colors, let us delve into one of the more universal and certainly versatile fence types. Wood fences have long been trusted for their sturdiness, customization and warmth.
Northern Michigan wood is a staple resource and sought after commodity for many applications throughout North America. The logging and paper industry has fueled much of the history and development of our Yopper communities. So naturally, wood fences are right at home protecting homes, families and property. The sturdiness of wood can maintain integrity for up to and beyond twenty years. This long-term investment also has the capability to change color or stain if needed.
Unlike other fencing options, wood fences can be refinished, repainted and even replaced easily and quickly. While vinyl fences are easier to maintain, wood fences are individual and authentic. Each component is an individual part of, at one point, a tree. The texture, aesthetic and even in some beautiful backyards that I've seen, the Mise-en-scène of the fence with the environment, creating a scene to enjoy, relax and participate in during our rich seasons here in the UP.
Wood fences provide something metal, or vinyl fences cannot.
Warmth. I don't mean using your wood fence for fire fuel. I'm referring to the warm glow one can sense from the once living wood fence. Wood fences don't have that "plastic" feel. More specifically, chain fences or even some of the ornamental metal fences provide a repressive or "don't touch me" sense or feel. Wood fences reflect that farm pasture, old timey-ness of long days with grandpa at camp or visiting the farm in Osher, just north of Rapid River.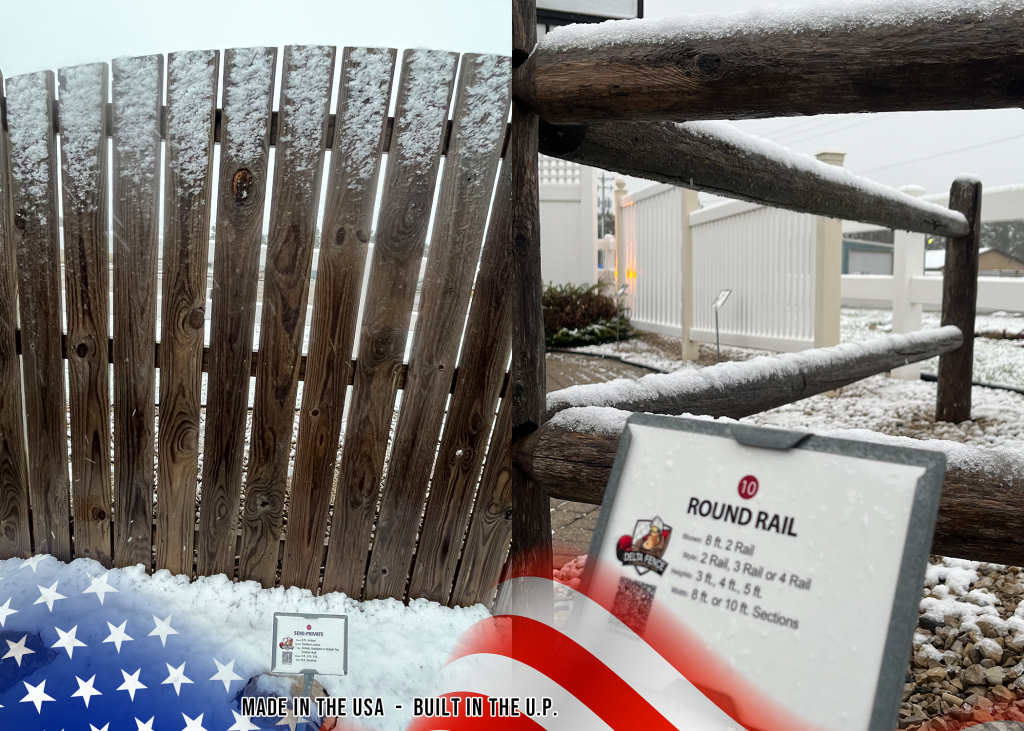 A final note on the versatility of wood fences is the ability to change. Be it a different color stain, a different color paint, a new picket or even different wood altogether. Wood fences are truly a jack-of-all-trades when it comes to life over time. We have all had the, "manufacturer has discontinued the product" conversation with customers. Even with the cost of wood products going up recently, I still don't think Mother Nature has to worry about discontinuing wood products. Now only if she would discontinue the snow in late March and early April….
All our seasons are beautiful, Winter especially. It is when you can really see the warmth in wood fences. Stop into our Showroom to see wood fences in action or visit our social media sites to learn more.
Delta Fence & Construction offers Built by Upper Michigan experience installers with the goal to meet and exceed the needs for a secure, safe and happy pet/family fence environment.
If you live, work or play in Upper Michigan and are looking to learn more about residential fencing and residential templates. Delta Fence & Construction can help! Call us at (906) 786-1076 or visit www.deltafenceman.com to schedule an appointment today.

Delta Fence & Construction is a licensed, bonded and insured fencing contractor in the State of Michigan.