Why we like Allegheny.
This month we are happy to spotlight one of our highly sought-after, easily maintained, stone-like texture fences. One of my favorites, the Bufftech® Allegheny fence reminds me of ancient manmade buildings and structures, preserved overtime with exceptional craftsmanship. The Bufftech Allegheny combines breathtaking curbside performance. Excellent protection against the wind, rain and elements. While delivering a private sound reducing barrier. Options include Bufftech's proprietary ColorLast® fade protection in five granite colors. These colors include beige, brown, dark brown, grey and dark grey. Each color is formulated to provide years of vibrant color, textures and overall resistance to the sun and damaging weather.
Here at Delta Fence, we believe innovation is what separates Bufftech® from the other fence manufacturers. People and product focused, an original slogan for Certainteed (Bufftech's parent company, founded in 1904), was "Quality made certain, Satisfaction Guaranteed". By combining innovation with quality and satisfaction, Bufftech® provides an alternative to traditional masonry walls that won't crumble, peel, chip or crack due to settlement, or stain like traditional walls. Made with high-quality raw materials. Bufftech fence products are consistent from panel to panel. Made with carefully selected ingredients designed to increase durability and long-term performance. When coupled with the industry-leading quality, durability and warranty, you can rest assured your new Bufftech Allegheny fence installed by Delta Fence will last a lifetime. Contributing to more frequent Happily-Ever-After-Quality-Life moments. Like backyard campfires during the Summer UP nights.
Reasons to love Allegheny.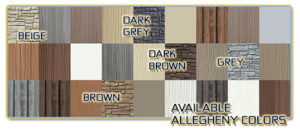 Built to last with reinforced steel, the high preforming Allegheny fence and components will continually provide a safe and friendly environment for more than just backyard or curbside home fencing. Compliant with building codes, the Bufftech Allegheny fence is approved for use around swimming pools and in windy conditions up to 115 miles per hour. Additionally, Bufftech's® innovation for privacy, boasts the absorption of direct sound with an (STC) sound transmission class of 26 for molded and 21 for extruded. Made in the USA, you can rest assured the superior quality exceeds compliancy and code standards, while also looking great.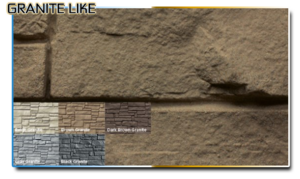 The Delta Fence Difference.
By choosing Delta Fence and Bufftech fence products. You open a plethora of color and style options to express who you are, increase curb appeal – what fencing professionals call the WOW Factor and add a level of security and safety for family, pets and property.  You are also choosing USA products installed by Upper Michigan Fence Professionals. Both Delta Fence and Bufftech® deliver worry-free protection for home perimeters while enhancing the beauty and value of your home.
If you live, work or play in Upper Michigan and are looking to learn more about residential fencing. Delta Fence & Construction can help! Call us at (906) 786-1076 or visit Contact Us to schedule an appointment today.

Delta Fence & Construction is a licensed, bonded and insured fencing contractor in the State of Michigan.