Delving further into Delta Fence's premium fence products, we highlight one of our favorites, the Chesterfield by Bufftech® which features 7-inch-wide vinyl boards with tongue and groove edges. Perfect for that rustic Upper Michigan look. This style offers total privacy with an attractive appearance, making it ideal for curb appeal. Select colors, such as Artic & Sierra, offered in ColorLast™ with dark color fade protection for many years of vibrant lasting color. Backed by CertainTeed's lifetime limited warranty, you can rest assured that your fence is covered. The rails are reinforced with steel giving this style of fence added strength and durability to stand up to our Northern Michigan Winters. If you are of the mindset to secure home and property, look no further as Chesterfield checks all the boxes.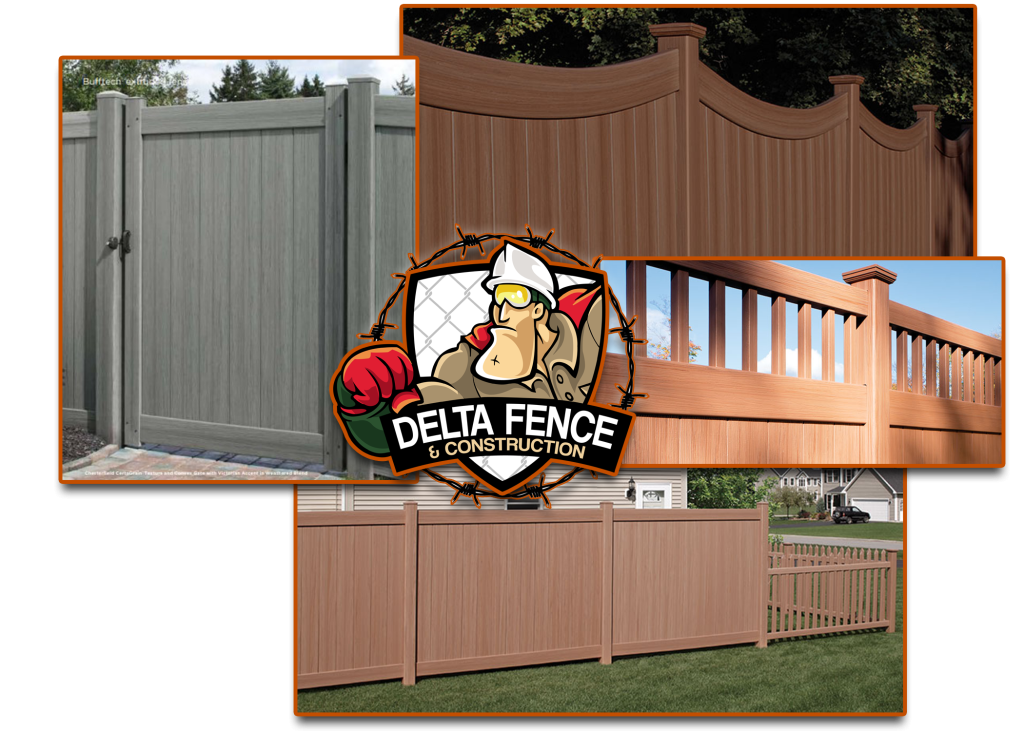 Let's take a look at a few of the key highlights with Chesterfield.
Added Strength
Reinforced steel rails keep this long-lasting beautiful fence upright, straight and performing well against the Upper Peninsula elements for many years to come. The wooden lifelike texture creates a hardwood sense of support and strength that is virtually maintenance-free. Coupled with the built in Bufftech® features, such as tongue and groove and steel reinforced rails, the Chesterfield fence buffers against wind, rain, sound and the occasional baseball or softball that gets loose during backyard practice. Tested with winds upwards of 115 miles per hour, this privacy fence can withstand the worst winds off Lake Superior and Lake Michigan. Built for the long run, Chesterfield fences fade less than traditional fences, offer an alternative to wood and come with bear strength and topflight security built in.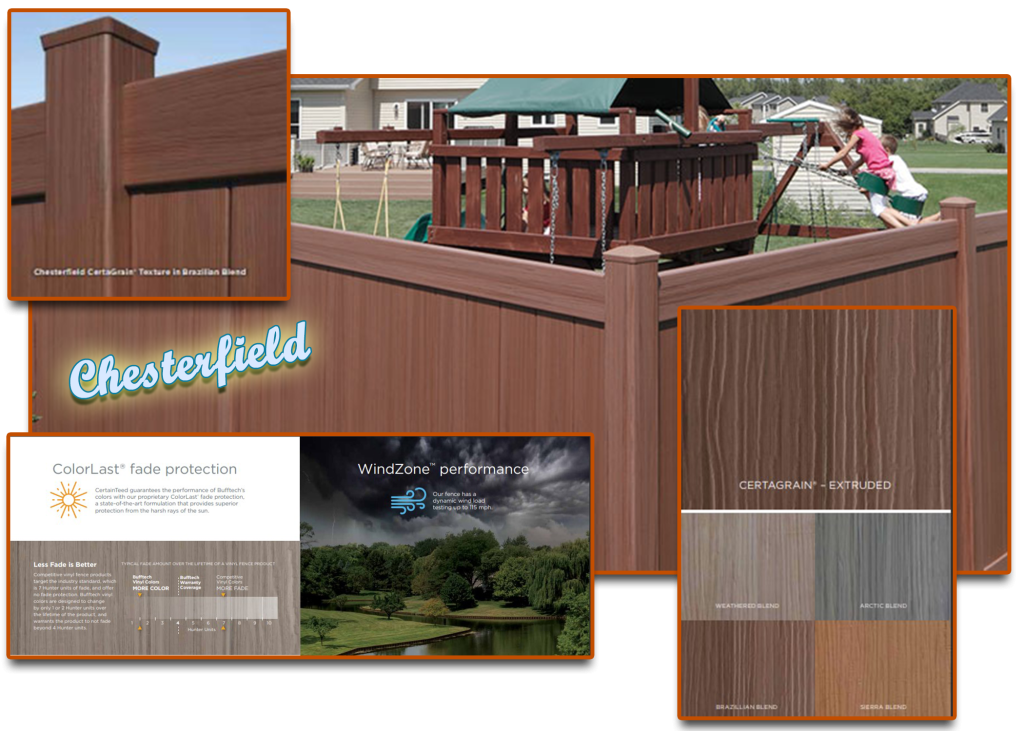 Attractive Appearance
Curb appeal means something. As American's, we spend countless efforts, energy and resources on making ourselves look good.  We spend considerable making our yards, houses and property look great. I'll admit it out loud, we are concerned with what our neighbors think. So why not have a professional, safe, secure and elegant fence that also looks good. With four distinct active colors, an authentic woodgrain texture, different combinations of caps and sizes that range from 4' to 6' feet tall, the plethora of options allow you to match the perfect Chesterfield fence with your home and property. Chesterfield also meets most building codes for pool fence. If you are looking for a high-end privacy fence with an Upper Michigan flare, look no further then Chesterfield by Bufftech®. To see this beautiful fence in action, visit the Delta Fence Showroom located at 6652 N. 75 Drive in Escanaba. We also have a number of resources available on our website that can help with visualizing a new fence. Please visit our Photo Gallery or Videos page.
Total Privacy
Living in the City, privacy is one factor that is more and more becoming a main reason to acquire a professionally installed Delta Fence fence. The privacy factor also applies to unwanted critters, keeping bunnies, squirrels and deer out. While helping keep fur friends in. An oft overlooked aspect of privacy is security and safety. This applies when most fences afford a view of the other side. Or a passerby may see over the top of the shorter, maybe picket or chain-link fence. With total privacy, a passersby cannot look through or over the fence.  Keeping what's inside safe and secure. In my neighborhood, total privacy equals peace of mind and peace of mind means I can focus my time and energy on things that are meaningful and of value to me, like backyard softball practice. With a Chesterfield fence by Bufftech®, I can accomplish those meaningful things while in the secure, safe and private environment.
Visit Delta Fence & Construction in Escanaba to see Chesterfield in action. Our Outdoor Showroom is open 24/7 and highlights many of the professional products we install throughout the UP and beyond.

If you live, work or play in Upper Michigan and are looking to learn more about residential fencing. Delta Fence & Construction can help! Call us at (906) 786-1076 or visit www.deltafenceman.com to schedule an appointment today.
Delta Fence & Construction is a licensed, bonded and insured fencing contractor in the State of Michigan.