The Importance of Wood.
Today we are working on Installing wooden fence. It's a four-foot-tall privacy-type fence. It's just for keeping some kids in and some dogs in. It's a solid Upper Michigan built four-foot-tall fence, all cedar except for the posts. We use treated posts. Basically, we are going around the family's front yard, creating a secure perimeter. Wood fences work well for perimeters since they have flexibility with privacy, semi-private or even rail.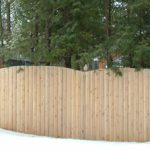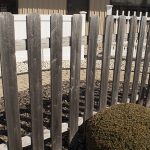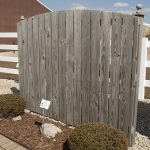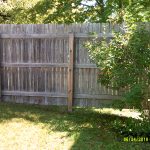 The installation on this wooden fence, we are using 4×4 treated posts. We usually dig the hole about 3 to 3 ½ feet deep so that you get real good support. We don't like to use concrete when it comes to wood because it tends to rot quicker right at the top of the concrete. It holds the moisture there and that's where it's going to rot first and then bust off. If it busts off at the concrete level, it is very difficult to get those posts back out. That's one reason why we do not like to use concrete. We like to use a longer post that goes deeper in the hole which gives that support that we need. To see our post-hole diggers or post pullers, visit L&C Enterprises-USA – Fencing Solutions.
How to bring the wood!
The panels are slapped up pretty easily. They are all eight-foot panels. We mark our holes and get them all spaced out properly when we are setting them so that we can slap the full eight-foot section right on up and make sure it's nice and level. Some areas you might have to dig down a little bit or you have it a little higher off the ground but when you are doing a installing wooden fence there is not much give when you are going up and down hills, so you try to make the thing as level as possible to make everything fit nice and straight.
An advantage of going with wooden fence is that upfront costs is a little less expensive than going with a vinyl or chain link with privacy slats. It is a little bit less expensive going with wood for privacy than it would be with other products upfront. Long term, different question.
Subscribe to our YouTube channel, our Facebook page, and also our blog page on our website to stay up to date on what's happening at Delta Fence & Construction! We will be posting useful content just like this periodically to help you become more educated fence owners. Stay tuned for more!
Like us on Facebook: https://www.facebook.com/DeltaFence/
Subscribe to our blog page: Blog
Subscribe to our YouTube channel: https://www.youtube.com/user/deltafenceman 
Stop by our Outdoor Showroom to check out all that we have to offer or watch the video HERE. If you are interested in learning more about types and styles of fences or have any other questions, give us a call at (906) 786-1076 and one of our friendly team members will be happy to assist you.