Highlighting another of the Bufftech® lineup of premium fence styles, textures and products.
Let us now look at Bufftech's Post & Rail Fence.
This is a Great Looking Upper Michigan Fence(s) that secures farms with horses and other livestock. Durability and low maintenance are characteristics of Bufftech's premium vinyl design. Backed by a limited life-time warranty with 5-year parts and labor protection, available in smooth or CertaGrain texture, this Bufftech® fence comes in two, three and four-rail styles and two colors. Let us take a look at what makes this fence stand out.
With Bufftech's ColorLast® fade protection technology, Rail & Post Fences enjoy years of an aesthetically pleasing rail fence while knowing it will last due to its durability and craftmanship. Rest easy that your country home and property will always be protected plus look it's best, even after years of Northern Michigan winters. Bufftech's color is formulated to provide years of vibrant color, textures and overall resistance to the sun and damaging weather. This fade protection keeps the fence looking great year-after-year. Choosing Bufftech® provides a higher value then traditional fences over time. We like the Post & Rail fences for livestock and horses, it secures the area they need and provides unobstructed views of our beautiful Great Lakes scenery.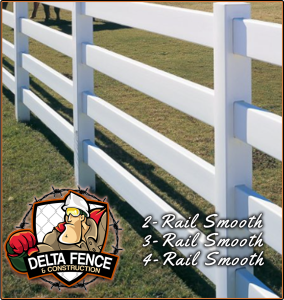 Not all fences are made or even installed the same.
With Bufftech's, warranty, color, texture, design, materials and real-world performance. You are not only getting a high-quality fence but also investing toward the future.
The Bufftech® Limited Warranty is the protection that ensures the investment maintains its value well into the future. Two phenomenal aspects of the Bufftech® product warranties are how homeowners can transfer the warranty if they sell their house. We, at Delta Fence, have to admit, that is kind of cool. The second game-changing aspect of the product warranty is the Labor warranty component. This covers the labor aspect of replacing a defective fence component. Not only will the warranty be transferable if property ownership changes hands, but the fence can also be repaired if found defective for little or no charge.
Built to last.
Three and Four-Rail fencing provides sturdy construction and long-lasting quality to create low-maintenance enclosures for horses and common livestock. Made in the USA, you can rest assured the superior quality exceeds compliancy and code standards, while also looking great.
In choosing a Bufftech® fence product installed by the professional Delta Fence builders. You are taking your first steps in a worry-free protection for home perimeters while enhancing the beauty and value of your property hopefully increasing your peace of mind.
Delta Fence & Construction offers affordable fencing options, complete design, and customization. Built by Upper Michigan experienced installers with the goal to meet and exceed the needs for a secure, safe and happy pet/family environment.
If you live, work or play in Upper Michigan and are looking to learn more about residential fencing. Delta Fence & Construction can help! Call us at (906) 786-1046 or visit www.deltafenceman.com to schedule an appointment today.

Delta Fence & Construction is a licensed, bonded and insured fencing contractor in the State of Michigan.