Recently we worked on a couple of ornamental fence projects. They went (video below) with a 2 ½ inch post, the pickets are wide pickets. Being made out of aluminum it has a real nice, elegant look to it. It's not going to rust on you. It is something that is going to live on for a long time and look really nice.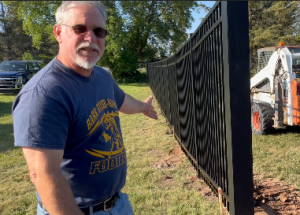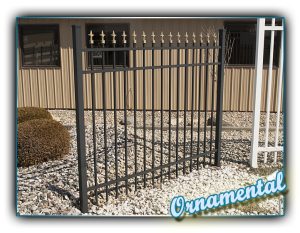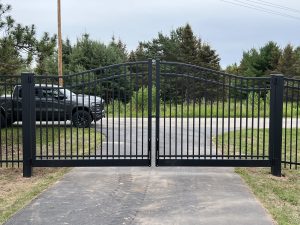 People are going to want a style like this when they are trying to make a traditional look with wrought iron type fences. People like the traditional wrought iron but it is very expensive because of freight, it is very heavy. It also has a tendency to rust a lot quicker where in this case it is an aluminum wrought iron fence. Aluminum is not going to rust on you.
Aluminum is also less expensive than steel ones for a more affordable cost while still providing the look that you want to do a very nice big yard and not spend as much as you would with a steel one.
It was very advantageous to go with this black fence. The reason why, the owner was originally thinking of going with vinyl with the white fence in the backyard like she did in the front yard. But then she changed her mind to match the wrought iron to match the one from her neighbor which ended up being much more subtle. It blended into the background better. It wasn't so loud. Vinyl can get very loud and bright. A lot of white can be a little too much contrast with that look also.
Overall, it was a very nice project. It went nice. Escanaba doesn't have very many problems for digging holes. It is all sandy, so it went pretty well. The backyard was a little bit funky. It's right on "snake alley" and has a couple of curves to it so to make it look really nice we followed that curve with every six-foot section. We followed the curve and made a nice curve in the fence. The owner sure liked that.
Subscribe to our YouTube channel, our Facebook page, and also our blog page on our website to stay up to date on what's happening at Delta Fence & Construction! We will be posting useful content just like this periodically to help you become more educated fence owners. Stay tuned for more!
Like us on Facebook: https://www.facebook.com/DeltaFence/
Subscribe to our blog page: Blog
Subscribe to our YouTube channel: https://www.youtube.com/user/deltafenceman 
Stop by our Outdoor Showroom to check out all that we have to offer or watch the video HERE. If you are interested in learning more about types and styles of fences or have any other questions, give us a call at (906) 786-1076 and one of our friendly team members will be happy to assist you.